http://www.guardian.co.uk/world/2011/apr/18/us-tornadoes-shutdown-nuclear-reactors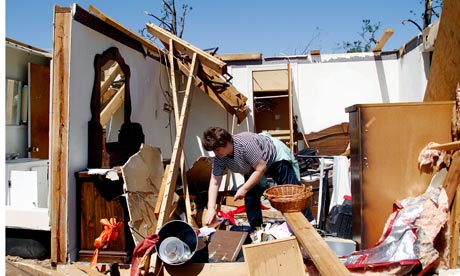 A US nuclear power company has disclosed that one of the tornadoes that hit the US at the weekend, killing at least 45 people and causing widespread damage, forced the shutdown of two of its reactors.
The series of tornadoes that began in
Oklahoma
late last week barrelled across the country, with
North Carolina
, where 22 people died, the worst-hit state.
The US nuclear safety regulator said on Mondayit was monitoring the Surry nuclear power plant in
Virginia
. Dominion Virginia Power said the two reactors shut down automatically when a tornado cut off power to the plant. A backup diesel generator kicked in to cool the fuel. The regulator said no radiation was released and staff were working to restore electricity to the plant.
The tornadoes were among the worst in the US in the past two decades. Last year, 10 people died in a tornado in Mississippi, while 57 were killed in North and
South Carolina
in 1984 and 330 across the south in 1974.
Two of the survivors of this year's storms, Audrey McKoy and her husband Milton, who live near Raleigh, North Carolina, told the Associated Press they had seen the tornado bearing down on them over the tops of pine trees. At a nearby farm, winds were lifting pigs and other animals into the sky. "It looked just like The Wizard of Oz," McKoy said.