Image via Wikipedia
http://www.guardian.co.uk/world/2011/apr/10/syria-death-toll-human-rights-groups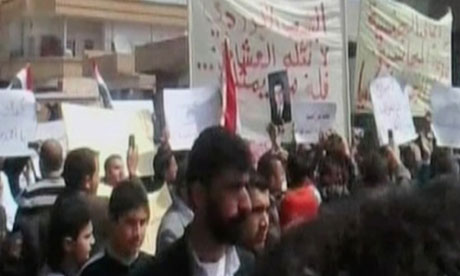 Human rights organisations have warned of a growing death toll in
Syria
as security forces move to quell protests and sit-ins in cities across the country.
As funerals for some of the 27 people shot dead in Deraa on Friday were being held, there were reports of violent clashes between mourners and security services.
An eyewitness in Deraa told the Guardian that security forces had been "shooting randomly" as mass funerals went on. It is not yet clear whether anyone was killed in those clashes. Further funerals are due to take place in Harasta and Douma.
The government issued a warning amid Friday's protests, the largest and most deadly yet.
A statement from the interior ministry, posted by the official Sana media agency, said: "There is no more room for leniency or tolerance in preserving security of the country and protecting the general order."
It added that this would be done "according to the law which specified the conditions for using weapons".
Sit-ins are taking place in Deraa, with the coastal city of Banias cordoned off. The National Organisation for Human Rights said 37 people had died across the country on Friday, including 27 in Deraa, three in Homs and Harasta and one in Douma, bringing the total death toll since 18 March to more than 200.
"We are very worried, especially for Banias where mobile coverage is currently down," Ammar Qurabi, the head of the organisation, speaking from Cairo, said.
Other activists said they were concerned about Latakia, where several districts have been cut off and the army deployed, although the town centre remains quiet.