Image via Wikipedia
A Chinese national company is interested in developing a 10,000- to 30,000-acre technology zone for industry, retail centers and homes south of the Boise Airport.
Read more:
http://www.idahostatesman.com/2010/12/31/1472023/chinese-company-eyes-boise.html#ixzz1OottjS1w
Officials of the China National Machinery Industry Corp. have broached the idea — based on a concept popular in China today — to city and state leaders.
They are also interested in helping build and finance a fertilizer plant near American Falls, an idea company officials returned to Idaho this month to pursue.
This ambitious, long-term proposal would start with a manufacturing and warehouse zone tied to the airport, and could signify a shift in the economic relationship between the two superpowers — a relationship once defined by U.S. companies like the J.R. Simplot Co., Hewlett-Packard and Morrison-Knudsen that would head to China to build and develop.
"I think China's coming over here shows they are willing to collaborate on the reinvigoration of the American industrial base," said Jeff Don, CEO of Eagle-based C3, which is acting as an Idaho representative for the Chinese company, called Sinomach for short.
Sinomach is just one of an increasing number of companies and investors showing interest in Idaho.
Hoku Materials Inc., a subsidiary of a Chinese energy firm, already has 500 people building its $400 million plant to make polysilicon for solar panels in Pocatello. It expects to begin production in 2011, employing 250 people, said Scott Paul, Hoku's president and CEO.
China surpassed Japan as the second largest economy in the world in 2010. And in June, Gov. Butch Otter traveled there to tell anyone who would listen that Idaho is open for business.
EAST IDAHO PROJECT COULD COME FIRST
Sinomach is China's third-largest contractor, with more than $14 billion in sales last year. It has been active in more than 130 countries in Asia, Africa, Latin America, Russia and Eastern Europe as general contractor for large infrastructure and building projects.
http://beforeitsnews.com/story/697/195/China_Wants_To_Construct_A_50_Square_Mile_Self-Sustaining_City_South_Of_Boise,_Idaho.html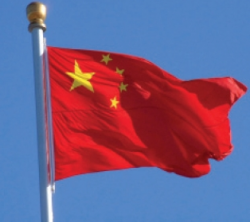 Thanks to the trillions of dollars that the Chinese have made flooding our shores with cheap products, China is now in a position of tremendous economic power. So what is China going to do with all of that money? One thing that they have decided to do is to buy up pieces of the United States and set up "special economic zones" inside our country from which they can continue to extend their economic domination. One of these "special economic zones" would be just south of Boise, Idaho and the Idaho government is eager to give it to them. China National Machinery Industry Corporation (Sinomach for short) plans to construct a "technology zone" south of Boise Airport which would ultimately be up to 50 square miles in size. The Chinese Communist Party is the majority owner of Sinomach, so the 10,000 to 30,000 acre "self-sustaining city" that is being planned would essentially belong to the Chinese government. The planned "self-sustaining city" in Idaho would include manufacturing facilities, warehouses, retail centers and large numbers of homes for Chinese workers. Basically it would be a slice of communist China dropped right into the middle of the United States.
http://www.sinomach.com.cn/templates/T_common_en/index.aspx?nodeid=147