Image via Wikipedia
Why is this all over the news today? Whether or not you believe in the Bible. I just wanted to point this out. I will be posting more on this very soon. If you have never read Daniel 11 before, now would be a great time to start. I'm only pointing out part of the chapter here. Most don't realize that Egypt is the South mentioned here. Please read the full chapter here.
http://www.biblegateway.com/passage/?search=Daniel+11&version=NKJV
Daniel 11
25
"He shall stir up his power and his courage against the king of the South with a great army. And the king of the South shall be stirred up to battle with a very great and mighty army; but he shall not stand, for they shall devise plans against him.
26
Yes, those who eat of the portion of his delicacies shall destroy him; his army shall be swept away, and many shall fall down slain.
27
Both these kings' hearts
shall be
bent on evil, and they shall speak lies at the same table; but it shall not prosper, for the end
will
still
be
at the appointed time.
28
While returning to his land with great riches, his heart shall be
moved
against the holy covenant; so he shall do
damage
and return to his own land.
Is this that time? I have a feeling the next few days or weeks will tell us if it is or not.
http://www.msnbc.msn.com/id/41383377/ns/world_news-mideastn_africa
CAIRO —
Several thousand supporters of embattled President
Hosni Mubarak
, some galloping in on horses and camels and wielding whips, charged into a crowd of anti-government protesters Wednesday, instigating violent clashes as Egypt's upheaval took a dangerous new turn.
The two sides rained stones, bottles, firebombs and even satellite dishes (ripped off nearby buildings) on each other.
Egypt's health minister said at least one person was killed and nearly 600 wounded in the violence. The dead man, killed when he fell from a bridge, was a soldier, the minister said. Several foreign journalists were among the injured, according to media reports.
More from CNN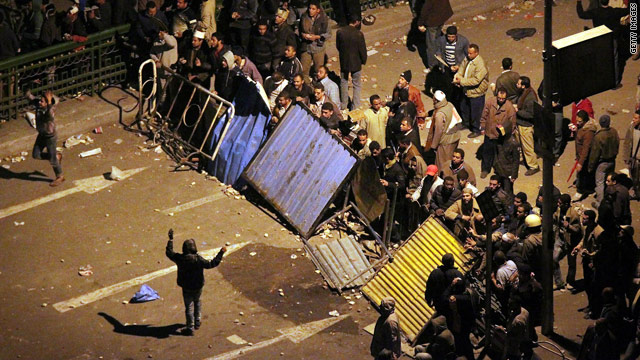 February 2nd, 2011
02:25 PM ET
[Update 9:45 p.m. Cairo, 2:45 p.m. ET]
Egypt's health minister said 611 people were injured in clashes in Cairo's Tahrir square Wednesday, state-run television reported.
Earlier today, Ministry of Health officials told state TV that at least one member of the Egyptian security forces was and more than 400 people were wounded in clashes between pro- and anti-government demonstrators in Cairo. Most injuries were head wounds from thrown rocks, Egyptian Health Minister Ahmed Sameh Fareed said.
[Update 9:30 p.m. Cairo, 2:30 p.m. ET]
A spokesman for the Egyptian Foreign Ministry says demonstrations by supporters of the Mubarak government are spontaneous and not orchestrated by the government. He also said the men on horseback and camels who rode into Tahrir Square earlier Wednesday were workers from the Pyramids whose business has been hurt by the unrest.