WASHINGTON (CNN) -- The United States military's Northern Command, formed in the wake of the September 11 terrorist attacks, is dedicating a combat infantry team to deal with catastrophes in the U.S., including terrorist attacks and natural disasters.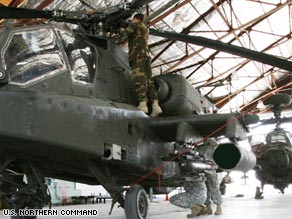 Soldiers preparing for a mission coordinated by Joint Task Force North, the U.S. Northern Command unit.
The 1st Brigade Combat Team of the 3rd Infantry, which was first into Baghdad, Iraq, in 2003, started its controversial assignment Wednesday.
The First Raiders will spend 2009 as the first active-duty military unit attached to the U.S. Northern Command since it was created. They will be based in Fort Stewart, Georgia, and focus primarily on logistics and support for local police and rescue personnel, the Army says.
The plan is drawing skepticism from some observers who are concerned that the unit has been training with equipment generally used in law enforcement, including beanbag bullets, Tasers, spike strips and roadblocks.
That kind of training seems a bit out of line for the unit's designated role as Northern Command's CCMRF (Sea Smurf), or CBRNE Consequence Management Response Force. CBRNE stands for chemical, biological, radiological, nuclear and high-yield explosive incidents.
According to Northern Command's Web site, the CBRNE Consequence Management Response Force is a team that will ultimately number about 4,700 personnel from the different military branches that would deploy as the Department of Defense's initial response force.
Its capabilities include search and rescue, decontamination, medical, aviation, communications and logistical support. Each CCMRF will be composed of three functional task forces -- Task Force Operations, Task Force Medical and Task Force Aviation -- that have individual operational focus and mission skills, the Web site says.
The Army says the unit would be deployed to help local, state or federal agencies deal with such incidents, not take the lead. The law enforcement-type training is not connected to its new mission, it says.
Use of active-duty military as a domestic police force has been severely limited since passage of the Posse Comitatus Act following the Civil War.